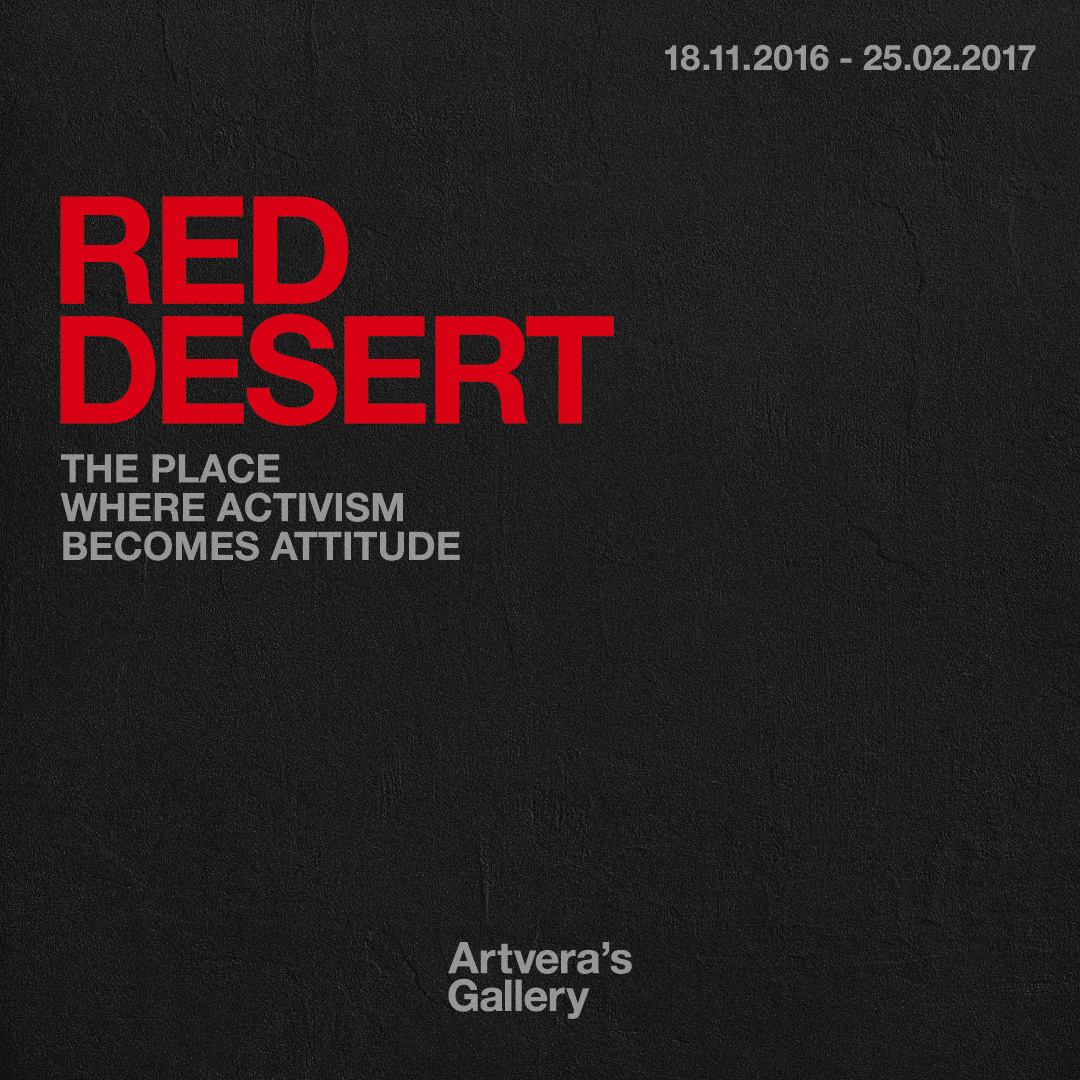 The Red Desert catalogue at artgenève 2017, Palexpo Geneva
28 January 2017
I was really satisfied in publishing this catalogue, in occasion with the Red Desert exhibition at Artvera's gallery.
Taking its roots from Antonioni's 'Deserto Rosso', the exhibition wants to collect a series of contemporary artists whom works of art are quite highly activist, and that is where the subtitle comes from "The Place where Activism becomes Attitude".
In 1981, Harald Szeeman wanted to create a Padiglione d'Arte Contemporanea (pavilion of contemporary art) on the Monte Verità. Following his idea, a polyvalent construction had to be built to house temporary exhibitions. His project failed, but in 2016 the artist Scoli Acosta was asked to fulfil Szeeman's utopian vision in Genius Loci. He came to live on the mountain and he immersed himself in the historical past to rekindle its once intense potential. The idyllic setting became the muse of the artist who built installations using local materials such as steel from abandoned railway tracks. Scoli Acosta's work during his stay at Ascona represents historical concepts in a contemporary mindset.
As the artist Scoli Acosta declared: ''Instead of criticising, I am interested in making the beauty of every day life visible to all. I also want to explore alternative ways to produce energy, to live by being conscious of our own existence and by being grateful for what we have and the ways in which we acquired the things we own.''
Nowadays we are taking with us an important past, the history that Monte Verità had made over one hounded years ago and, nevertheless, the exhibition that was just held at Artvera's some months ago.
With Red Desert, we were asked to inspire with a truly contemporary idea. That is why we used only the finest Fedrigoni papers, such as Materica Ardesia, and a new 100% recycled mat paper called Freelife Vellum. The 5 colours printing gave an impressive touch.
A new GIF will be available soon on our website, and the printed catalogue is already available at the Feltrinelli bookstores in Italy.
The exhibition and the catalogue will be presented at the 2017 edition of Artgenève, the contemporary art fair in Geneva, Switzerland. In that occasion, the catalogue will be sold by Payot.
Mauro Botticelli